Leak is a space-consuming installation, that centres on a container-like construction is covered by muddy stains, caused by leaking water. On the outside of this construction air-conditioning units remain dysfunctional, creating a noticeable stillness: over here circulation has temporarily come to a hold. Inside we find a cramped cabin where a video work plays, that shows water as an entity with a changeable character. From it's controlled usage in domestic hygiene and care, it becomes unpleasant when pipes leak and other lifeforms start to germinate. The water swells, moves uncontrollable and turns what seemed sturdy into something helpless and light. Thereby making attachments visible right before they snap. The environment that we enter looks like an actual home, but was built in the artist's studio, to create a time capsule that will only persist as a video. While closely scanning this environment with her camera, we become aware of pots and towels that have been placed by someone in a last effort to stop the flood. At other times a spectral presence seems to enter the stage, moving through bodies and architecture, leaving signs for those willing to receive them. The installation with the accompanying video and sculptural elements is an expansion of consciousness, a representation of the oppressive reality of our mind. While the work can be seen as a personal way to deal with the past, it resists any retelling that simplifies a lived experience. Instead Leak offers a site of speculation where a period of mourning and feverish creation – or feverish creation as a form of mourning – temporarily crystallizes. Text by Fabian Schoneich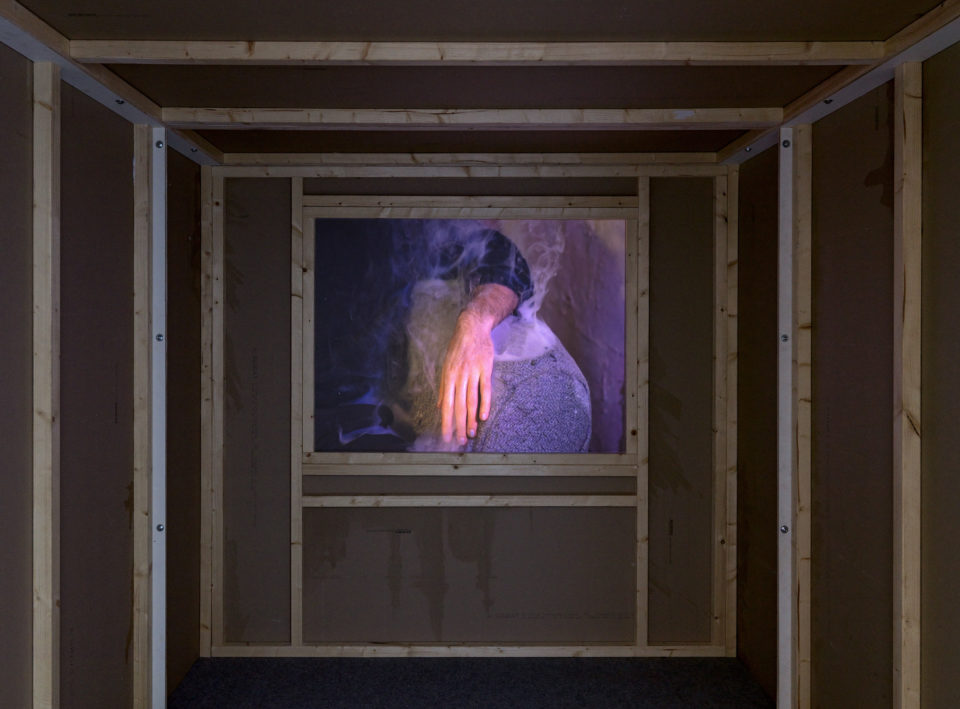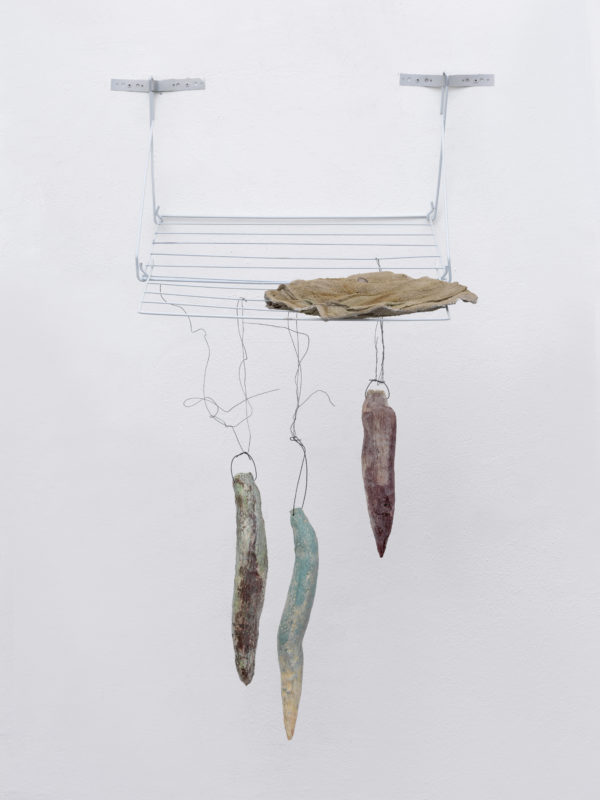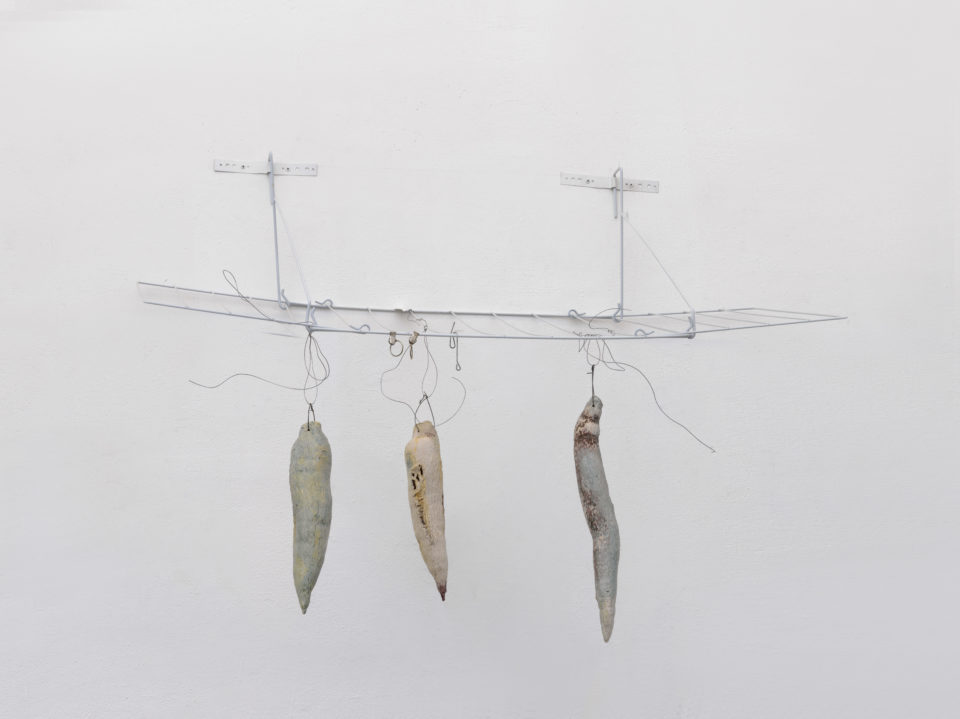 Left Laundry was a group show curated by Gustav Wideberg that took place in the densely vegetated no man's land nestled in between the Schellingwouderbrug and the A10 on the North side of Amsterdam. The persistent and attentive exporer-visitor was able to discover faux-archeological digs, sudden bursts of goblin-poetry, exquisitely crafted branch sculptures and a text-guided raft. With CECILIA BJARTMAR HYLTA, JACOB DWYER, MATTIAS ELIASSON, MARY FURNISS, MONIKA JANULEVICIUTE, MINNE KERSTEN, BRIANNA LEATHERBURY, FAHMY SHAHIN, GIANNA SURANGKANJANAJAI, GUSTAV WIDEBERG, EMIEL ZENO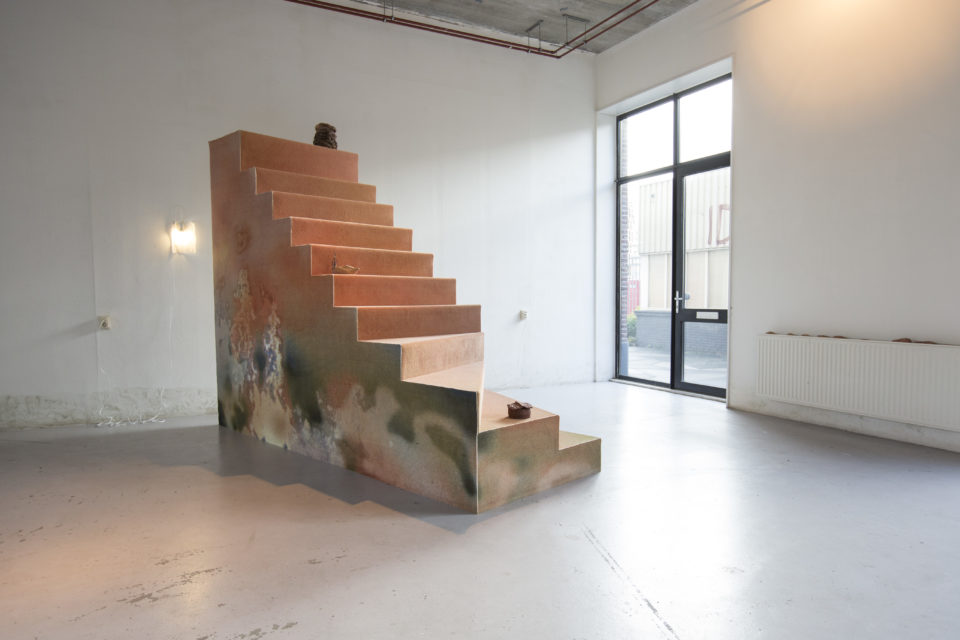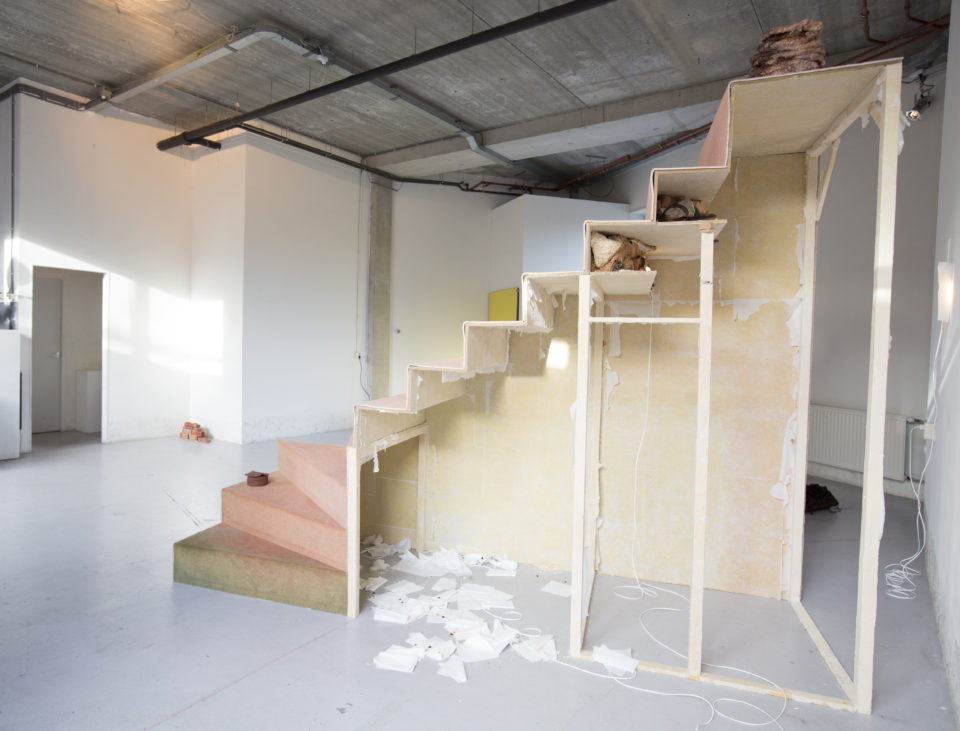 The Burrow* is an investigation in shelters and the reasons why creatures withdraw from public sight to be alone. The exhibition dealt with the notion of feeling at home, and played with the question what we try to protect with the mental and physical constellation of the home. It hosted installations of cavities, secret saves, hide-out places, and things that grow when left unattended. The space under the staircase can be considered a flaw of architecture, as it is the side effect of the design of the object. The space that emerges has no function, so it can be an invitation to hidden activities. *The Burrow is a reference to a short story by Kafka in which a badger-like creature creature struggles to secure the labyrinthine burrow he has built as a home. This exhibition was kindly supported by the AFK.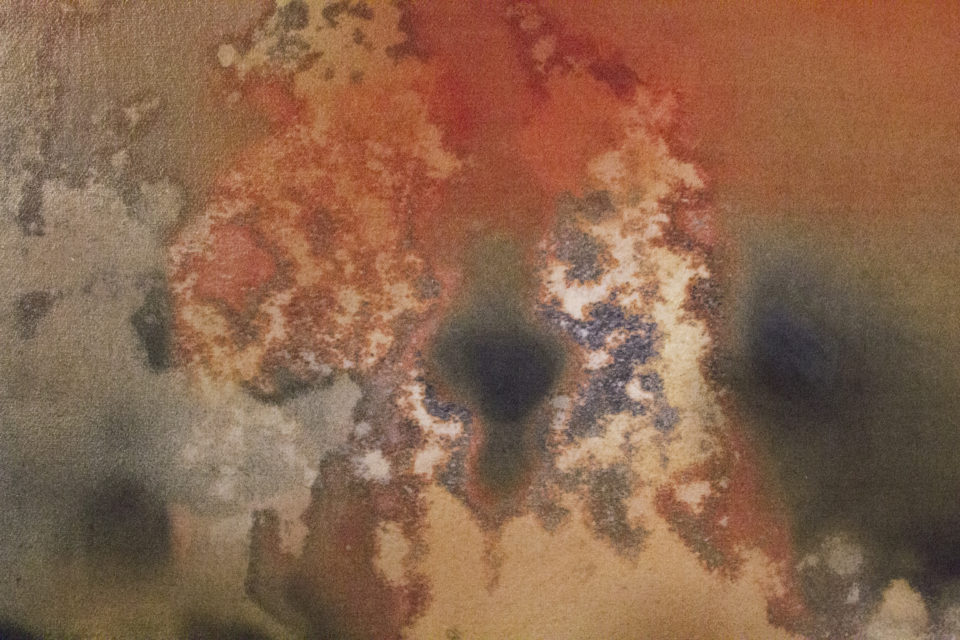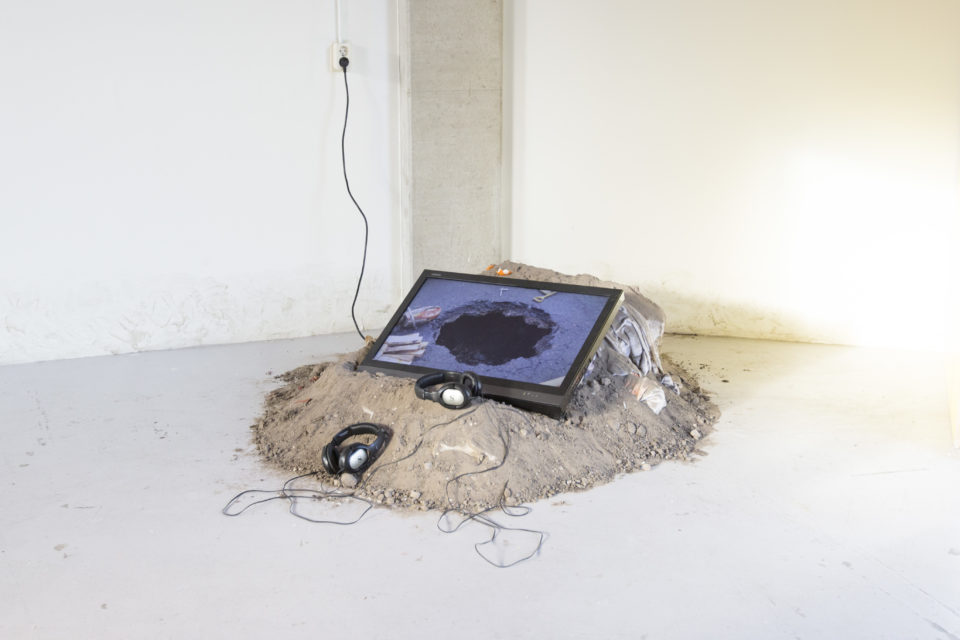 The video Cavities speaks of threat and desire connected to the underground, told through a fictive story about a hoarder and his compulsive obsessions.
Shelter is an installation with video and audio-fragment continuously playing. An audio-fragment plays a soft voice that is whispering a lullaby as if to comfort itself. A video shows a macro view on the birth of a snail – a creature born with its house, yet still being born within an outer shell.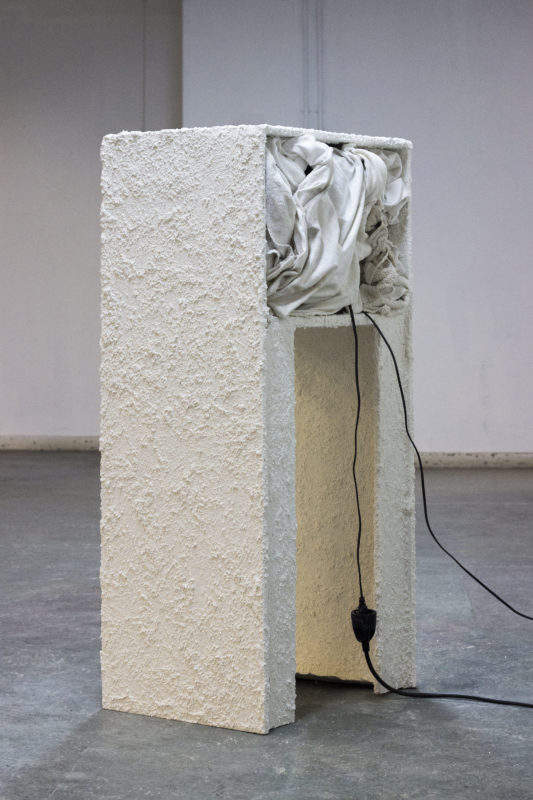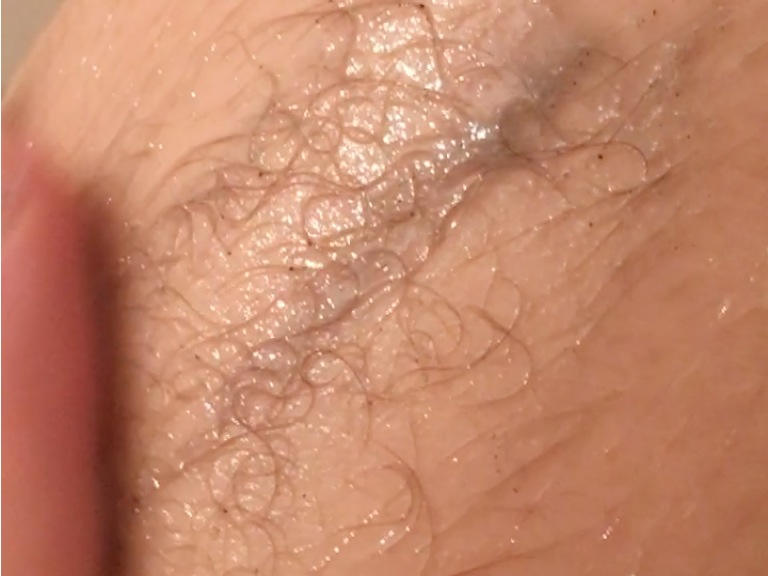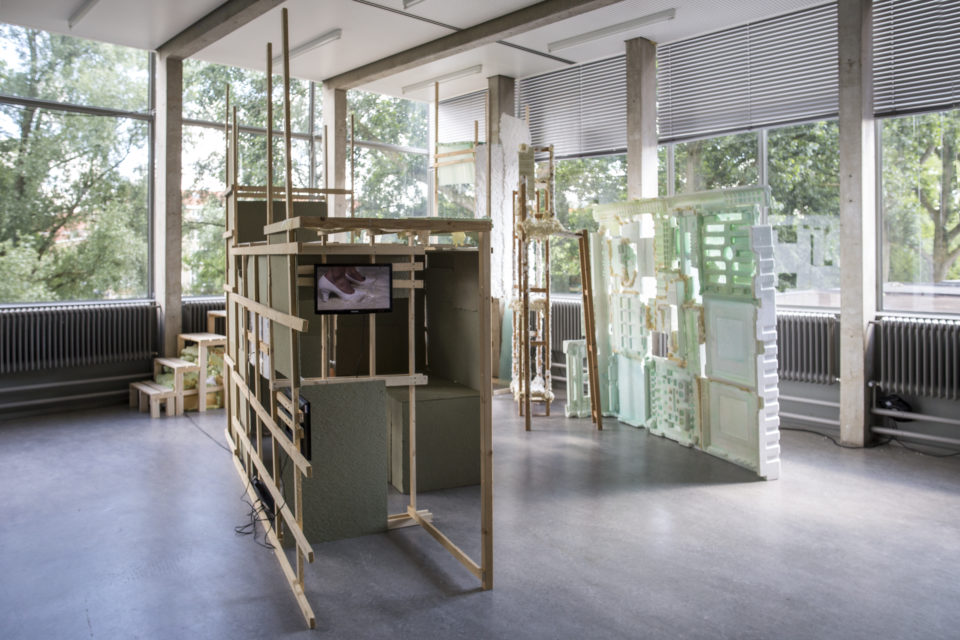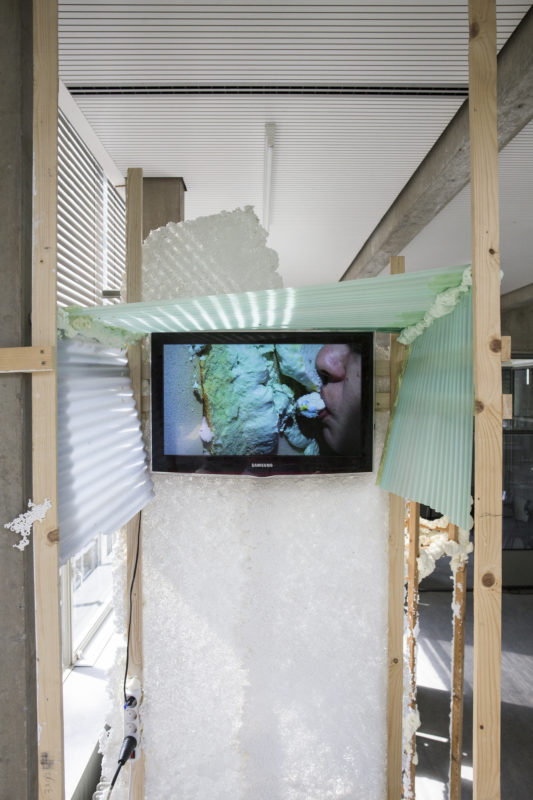 Between the false ceiling and the false floor is a large scale video installation based on hidden spaces in buildings (crawl spaces, fuse-boxes, tubes and pipelines). The installation has resemblance to a construction site, a factory or a beehive. Video's show how workers are busy constructing a wall, preparing a floor or fabricating new material. The way they operate is a hybrid between industrialised production and organic nesting (as we recognise from animals). The video's show a chain system of production that is closely linked to how bees construct their society. Every 'worker' is devoted to one task of the sculpture, together they function as a collective body. Women are chewing gum, dough is being processed with miniature houses, and shoes are broken down to become the next layer on the floor. This work was kindly supported by the Berlage Fonds